The Triangular Bipyramid
---
The triangular bipyramid is a polyhedron bounded by 6 isosceles triangles, 9 edges, and 5 vertices. It is the dual of the triangular prism. It belongs to the class of duals of uniform polyhedra, which also includes the Catalan solids.

The faces are transitive isosceles triangles with 2 short edges and 1 long edge. The edge length ratio is 2 : 3.
Note that the triangular bipyramid as the dual of the (uniform) triangular prism should not be confused with Johnson solid J12, which is also a triangular bipyramid, but with regular faces—equilateral triangles—rather than isosceles triangles. The dual of J12 is a non-uniform triangular prism, having rectangular faces with edge ratio √6 : 1 rather than squares.
Projections
The following are images of the triangular bipyramid from various viewpoints:
| Projection | Description |
| --- | --- |
| | Top view. |
| | Front view, looking at an equatorial vertex. |
| | Face-centered view. |
| | Oblique side view. |
Animation
Here's an animation of the triangular bipyramid rotating around its vertical axis: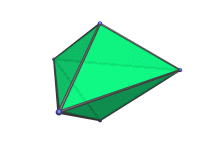 Coordinates
The Cartesian coordinates for the triangular bipyramid are:
(±1, 1/√3, 0)
(0, −2/√3, 0)
(0, 0, ±2/3)
Occurrences
The triangular bipyramid occurs as cells in the joined pentachoron, the dual of the rectified 5-cell, one of the 4D Catalan polychora.